Dragbike Live film crew was on location at the Manufacturers Spring Cup  held April 8-10 2011 at South Georgia Motorsports Park in Georgia when Top Fuel motorcycle drag racer Korry Hogan not only won the Top Fuel class but proved he is the fastest man in the world  on two wheels in the 1/4 mile!
We have produced a video of the historic moment from footage that I shot from the event. I would like to thank my com-padre Korry Hogan for supplying Dragbike Live with the included helmet cam footage from  his run.That's right! helmet cam footage!
We even play the whole run from the helmet angle at the end of the video for you to watch. Pay close attention to the left side of the screen, you can see the shadow of Larry "Spiderman" Mcbride  bike and how close this race was.
WOW! is the catch word for this performance from Hogan after the team transporter  was fixed after breaking down in the Tennessee mountains and effectively knocking the team out of first round of pro qualifying; the team manage to arrive just at the beginning of pro qualifying on Friday night.
The team rebounded quick and fast beginning early Saturday,but struggled to run in the five second zone in the hot and humid South Georgia weather. Late afternoon would change everything for the Hogan/Dryden/Alwine Top Fuel Motorcycle Drag Racing Team. After struggling to get rhythm after a blower backfire Hogan laid down a solid 255mph run to stun everyone at the track.
Hogan is not new to the 250mph zone, in fact he is the only Top Fuel rider to ever break the speed barrier. Many thought his first 250mph record a few years ago at Norwalk Motorsports Park was a fluke and rumors started to spread. Hogan looked to redeem himself and prove to the world it was no fluke.
Hogan laid down a all time best in the history of the class of 254.62 mph in the final round Sunday April 10th 2011 in the Top Fuel class to take the win against rival Larry "Spiderman" Mcbride  and to back up a previous run of 255mph that was made on Saturday to earn him the title of National & World  Record Holder!   CONGRATS TO THE TEAM!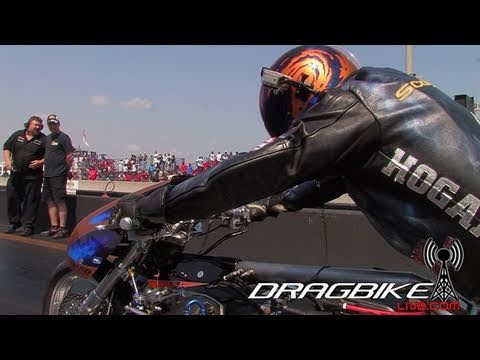 -Doug Ray
Category: Hot Off The Press, Team Reports