Follow Dragbike Live.com as we take you deep into the world of motorcycle grudge racing. Grudge Fest 4 "Want Some Get Back?' turned out to be the most exciting of the Grudge Fest events held each year at Rockingham Dragway in North Carolina.
One racer,Chris Moore did the impossible and went undefeated .His record was 8-0!  Dragbike Live was on location to film the action at the Grudge Fest 4 held at Rockingham Dragway in Rockingham , NC on September 1 2012.
Preview the DVD at Bottom of Article
Your purchase includes the DVD as pictured with case and as a bonus Spencercycle.com has included a $10 Discount coupon inside ever DVD order.
Use the coupon with your next purchase of $100 or more worth of parts and receive a $10 discount instantly with SpencerCycle.com and the DVD only cost you $4.00!
We have provided a quick preview of the action and a payment button below the video to purchase your copy today with.
Price of the DVD is $14.00 shipped (USD/lower 48 states only).
If you are outside the continuous United States or over seas please contact us for shipping rates. You may contact us at dvdsales@dragbikelive.com
PURCHASE YOUR COPY BELOW
Preview the DVD by clicking play button in middle of video screen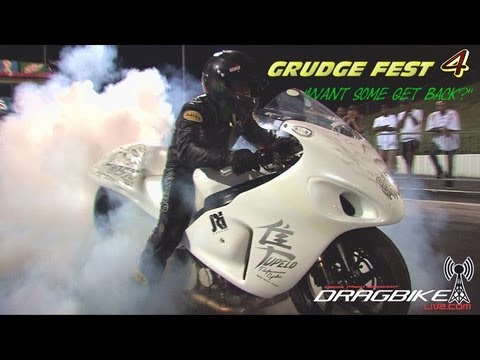 The action was hot and the bikes were fast and the smack talk was at a all time high like it has never been witnessed before.
Grudge Fest 4  'Want Some Get back?" is action packed and filled with trash talking and down right all out war! Grudge racing's biggest event ever unfolded into epic battles between rivals on the 1320!
45 minutes of High Definition racing /grudge action. Get yours today!
All packages are shipped through United States Postal Service.
Category: Hot Off The Press, Race DVD's