The Mickey Thompson Tires MIROCK Superbike Series returns to Maryland International Raceway for the biggest and best MIROCK event of the year at the Fast by Gast / WPGC Bike Fest on July 21-22, 2012.
The event will feature Mickey Thompson Pro Mod, Orient Express Pro Street, DME Racing Real Street, Trac King Clutches Top Sportsman, House of Speed Crazy 8's, FBR Shop 5.60 Index, Fast by Gast Pro E.T., and Brock's Performance Street E.T. The event will also include Grudge Racing both days, and the "Afterdark Underground" 2-hour grudge program on Saturday night.
MIROCK is also proud to present that it has teamed up with the XDL Show to bring an even bigger Stunt Bike competition than ever before at the Bike Fest with professional riders. There will be a practice session and competition on both days. Watch these talented riders show their skills on sportbikes and defy the laws of physics!
There will also be a special "Paint the 1/4 Pink" addition to the event to raise money for breast cancer research. Female motorcycle racers have been raising sponsor money and donations in the sport they love for a great cause; so come on out and show them your support in their shootout!
 BIKE FEST EVENT COMMERCIAL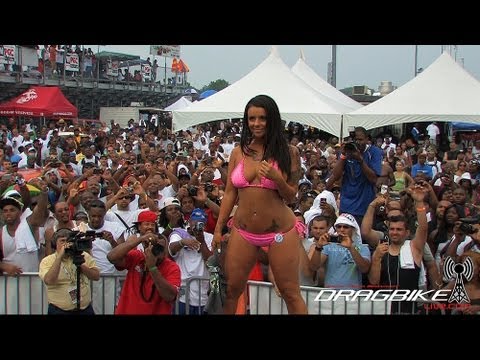 The event will also host a huge vendor midway on both days full of motorcycle parts, apparel, and accessories! In addition to the racing MIR will host a $1,200 bikini contest on Sunday plus bikini bartenders in the beer garden! Also be sure to check out the wild custom bike show on Sunday, and there will also be a live band on Sunday! So head to Maryland International Raceway for an exciting weekend of motorcycle action!
MIROCK has hundreds of racers and thousands of fans traveling for theMIROCK-XDL FBG/WPGC "Bike Fest", and if you need hotel rooms then pleasetake notice. MIROCK officials have received calls from racers and fans thatthey are having trouble finding hotel vacancies. The LaQuinta Inn and BestWestern in Laplata among others are already booked full for "Bike Fest"…There are still some rooms left at the Clarion Inn and the Sleep Inn. So book them now before they are also booked solid. Make sure that you mention MIR when booking at a MIR host hotel, to receive a racer discount.
For hotel Info Click Link Below: http://www.mirdrag.com/v2/lodging/hotel/
Friday Schedule:
Gates Open…………………. 8am
Daytime Test & Tune ($100)……… 9am-5pm
XDL Stuntbike Free Riding………………10am-5pm
XDL Stuntbike Arena Practice…………..5pm-10pm
Evening Test & Tune ($20) ……. 6:30pm-11pm
Saturday Schedule:
Gates Open……………… 9am
Sportsman Qualifying/Time Runs….10am-3pm
XDL Stuntbike Arena Practice………10am-12noon
XDL Stunytbike Free Riding…………..12noon-5pm
Pro Qualifying…………1pm, 4pm, 7pm
Paint the 1/4 Pink Shootout……… 2pm-3pm
Sportsman Eliminations………….. 3pm
XDL Stuntbike Round 1 & 2 Comp…….5pm-10pm
*Afterdark Underground begins after Saturday's Program
Sunday Schedule:
Gates Open………………. 8am
Church Service…………….. 8:30am
Sportsman Last Time Run……. 9am-12noon
Bike Show Judging & Registration… 9am-12noon
XDL Stuntbike Arena Practice………10am-12noon
Pro Shakedown……………. 9:30am
Eliminations……………… 12noon
XDL Stuntbike Round 3 Comp……………1pm-4pm
Live Ban Performance……………………………2pm
Bikini Contest………………. 4pm
Bike Show Awards…………….. 5pm
Admission:
Friday Adult Admission (1-Day)……………….$10
Saturday Adult Admission (1-Day)……………$20
Sunday Adult Admission (1-Day)……………..$20
Sat & Sun Adult Admission (2-Day Pass)……$35
Fri – Sun Adult Admission (3-Day Pass)……..$45
Kids 6-11 (Per Day)……………………………….$5
Bike Show:
Custom Bike Show (includes 1 admission)….$30
Physical, Mailing, & GPS Address:
Maryland International Raceway
27861 Budds Creek Road
Mechanicsville, MD 20659
Track Information:
Track Office: 301-884-9833
Dragline: 301-884-RACE
Track Fax: 301-884-9878
Track Website: www.mirdrag.com <http://www.mirdrag.com/>
MIROCK Website: www.mirockracing.com
XDL Website: www.xdlshow.com
Facebook Event Page:
Category: MiRock