Brock Davidson of Brocks Performance.com, an avid performance enthusiast and engine builder, explains how to maintain the clutch on his BMW S1000RR 'Christine".
After he notices some issues with his personal performance during an outing at his local drag strip he breaks the motorcycle clutch down and finds the issue.
Follow along as he explains how his drag strip numbers point him to a simple clutch problem that is a bit difficult to spot.
While this may be an easy and inexpensive to cure which could not only bring his performance back to where it was,but also avoid a costly, catastrophic clutch failure if left undetected.
Although the bike in the video is a BMW S1000RR the same principles and techniques are pretty much true for any motorcycle in use today.
Enjoy and thanks to Brock for sending in the tech video.
Any questions can be left in our comment box at the bottom of the article page.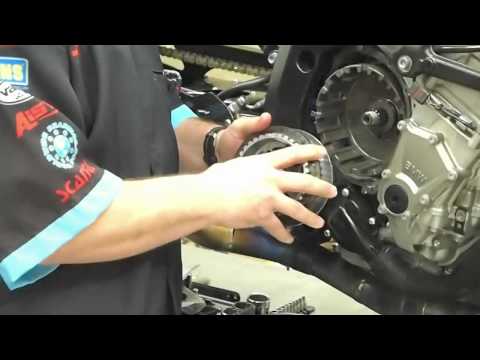 Dragbike Live.com Video Disclaimer
The video(s) brought to you by Dragbike Live.com are offered to the public for information and entertainment purposes only.
Any and all information perceived from these video(s) through either visual, verbal, or written means, should be considered the sole opinions of the Producers, the Writers and the Actors involved in the making of this video(s).
The Producers, Writers and Actors of these video(s) have used their best efforts in producing these video(s) but neither Producers, Writers nor Actors of these video(s) make any representation or warranties with respect to the accuracy, applicability, fitness, or completeness of the contents of this video. The information contained in these video(s) is strictly for entertainment and informational purposes. Therefore, if you wish to apply concepts or ideas contained in these video(s), you are taking full responsibility for your actions.
Neither the Producers, Writers or Actors, nor the copyright holder or assigned users of these video(s) shall in any event be held liable to any party for any direct, indirect, implied, punitive, special, incidental or other consequential damages arising directly or indirectly from any use of this material, which is provided as is, and without warranties.
As in all cases, viewers should never take any information perceived from these or any other video(s) at face value and should always do their own due diligence on any viewed material to form their own opinions and best judgments. And where applicable, the advice of a competent legal, tax, accounting or other professional should be always sought before taking action of any kind.
The author and publisher do not warrant the performance, effectiveness or applicability of any sites listed or linked to in these video(s).
All links are for information purposes only and are not warranted for content, accuracy or any other implied or explicit purpose.
Category: Hot Off The Press, How To's, Tech Dept.