We are happy to announce Dragbike Live.com informed earlier this week by Rockingham Dragway that Live Timing will once again be available for fans at this weekends MiRock S
uperbike Series Lees Performance World Finals on November 5-6, 2011.
This weekends upcoming MiRock Superbike Series Lees Performance World Finals being contested at Rockingham Dragway in Rockingham North Carolina starting Saturday and running through to completion Sunday afternoon.
In addition to the Live Timing, Dragbike Live.com will bring you event coverage in the form of qualifying, competition ladders,event pictures and news as the event unfolds at the track!
Race teams and fans will now be able to view the results in real time as the bikes progress down the track via internet connection and view each lanes increments such as reaction times, sixty foot times,330 and 1000 feet times along with elapsed time and miles per hour as the riders traverse the 1320 foot distance towards the finish line.
Live Timing results will only be available during the series classes which include Pro Street,Pro Mod, Real Street,Top Sportsman, Crazy 8's,Pro ET, Street ET and 5.60 index classes and shut off and not viewable during the Afterdark Underground segment of the event, Saturday night.
Live Timing Results will be available live in real time from Rockingham Dragway on Dragbike Live.com along with complete race results,videos,qualifying,eliminations and race results.
Just click the link Live Timing or the right and bookmark it to view from Dragbike Live.com or look for special logo in the upper right hand of your screen during race weekend to view from Dragbike Live.com.
For additional information on the season finale of the MiRock Superbike Series or read the official pre race press release below. See you there!
The event will feature Mickey Thompson Pro Mod, Orient Express Pro Street, DME Racing Real Street, FBR Shop Top Sportsman, House of Speed Crazy 8's, Nitrous Express Pro E.T., Cycle Connection Street E.T., and Motorcycletireoutlet 5.60 index.
The event will also include Grudge Racing both days, and the "Afterdark Underground" 2-hour grudge program on Saturday night.
The Pro E.T. and Street E.T. Tournament of Champions race will also be held on Saturday to determine the World Champions in Pro E.T. and Street E.T.
How Great Was the 2010 World Finals?
Check out the video below to find out!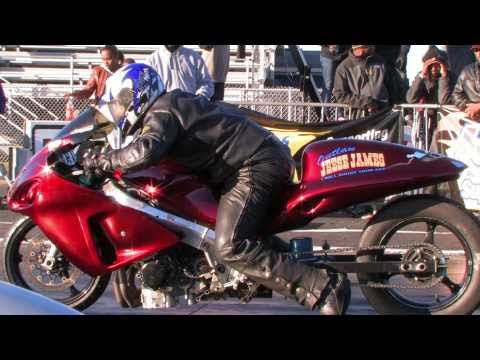 The event will also host a huge vendor midway on both days full of motorcycle parts, apparel, and accessories! So head to Rockingham Dragway for an exciting weekend of motorcycle action!
Friday Schedule:
Gates Open..…………………..……..…………..… 9am
Private Test & Tune…….…….…………. 10am-6pm
Open Test & Tune………..……………… 6pm-11pm
Saturday Schedule:
Gates Open……………….……………………….… 9am
Sportsman Qualifying/Time Runs..Starts at 10am
Pro Qualifying…………………….…..1pm, 4pm, 7pm
*Afterdark Underground begins after Saturday's Program
Sunday Schedule:
Gates Open……………………………….…..….… 8am
Pro Shakedown……………………………..… 9:30am
Sportsman Last Time Run……..….. 10am-12noon
Eliminations…………………………..…….….. 12noon
Admission:

Adult Admission (1-Day)……………….$10
Adult Admission (1-Day)……………$20
Adult Admission (1-Day)……………..$20
Sat & Sun Adult Admission (2-Day Pass)……$35
Fri – Sun Adult Admission (3-Day Pass)……..$45
Kids 6-11 (PerDay)……………………………….$5

Track Information:
Track Office: 910-582-3400
Track Fax: 910-582-8667
Email: info@rockinghamdragway.com
Website: www.rockinghamdragway.com
Directions : Directions to the Rock
Hotels: Rock Host Hotels
Airport: RaleighDurham Airport – RDU
Mailing Address:
Rockingham Dragway
P.O. Box 70
Marston, NC 28363

Physical Address:
Rockingham Dragway
2153 US Hwy 1 North
Rockingham, NC 28379
For Your GPS:
Rockingham Dragway
L.G. Dewitt Road
Marston, NC 28363
Click Image below to view full size pdf file of front and back of event flier

Category: Hot Off The Press