Dragbike Live film crews were  filming the MIRock Superbike Series Fall Nationals held on October 1st-2nd 2011 at Maryland International Raceway in Budds Creek Marylan and captured the exclusive historic video of Ryan Schnitz breaking the six second barrier.
Schnitz is the rider for HTP Performance of Richmond Virginia and piloted the teams Nitrous Oxide assisted Suzuki GSXR1300 Hayabusa street bike when he made history clocking a 6.907 ET at 203.6 MPH in the 1/4 mile!
Schnitz is the first person ever to run the 1/4 mile on a Pro Street legal motorcycle in less than 6 seconds! This is the quickest  pass ever made on a street bike and the first street legal Pro Street motorcycle and a Nitrous Oxide injected bike at that to break the 6 second barrier. History was made and witnessed!
Congrats Team HTP performance and Ryan Schnitz for getting the job done and in doing so earned a cool $10,000 from Hays Machine Works for claiming the "6 Second Bounty" put up by the company in March of 2010. Hays Machine Works is paying money out to the first three riders to enter the 6 Second Club.
Listen To Hays Machine Works $10,000 Audio Press Release Below
Audio clip: Adobe Flash Player (version 9 or above) is required to play this audio clip. Download the latest version here. You also need to have JavaScript enabled in your browser.
6.907 et@ 203miles per hour! Everyone in attendance at the MiRock FBG Fall Nationals held at Maryland International Raceway were stunned and excited to have witnessed a milestone and history made.
The last true barrier to be broken and Ryan Schnitz is the first man to enter the six second zone on Pro Street non wheelie bar drag bike and he did it with a NOS bike!
Click Below to Watch the Ryan Schnitz Historic Pro Street Pass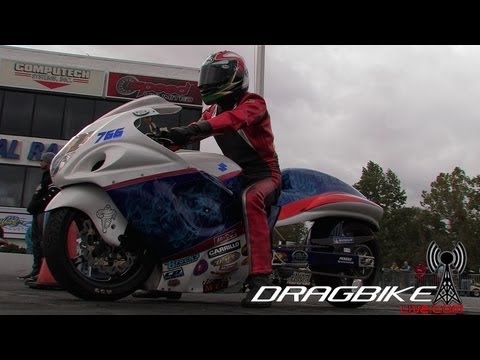 Schnitz made history and broke the barrier aboard the  nitrous oxide assisted Suzuki Hayabusa built by HTP Performance's Cecil Towner.
Pro Street drag bike's are not permitted to use wheelie bars and must have working headlights and tail lights and a wheelbase no longer than 70 inches.
Ryan Schnitz is no longer the "7 Second Kid"! more like "Mr. 6 Second"!
Tim hays of Hays machine Works (pictured right) awards a $10,000 check to Ryan Schnitz/Team HTP Performance
Category: Hot Off The Press, MiRock